Glasses For Small Faces: Tips On Getting The Perfect Eyewear Fit
How should glasses for small faces fit? | How to find out if you need glasses for small faces | Average frame sizes | Tips for checking that your glasses for small faces fit you well | Tips for choosing glasses for small faces | Best glasses shape for small faces | Prescription glasses for narrow faces | What glasses look good on a small face? | Check that your stylish glasses for small faces fit you well | The aesthetics of glasses for small faces: men & women | Best glasses shape for small faces | Prescriptions with glasses for narrow faces
Face shape is often cited as a consideration when buyin glasses, but face size is also important. Here's our guide to glasses for small faces.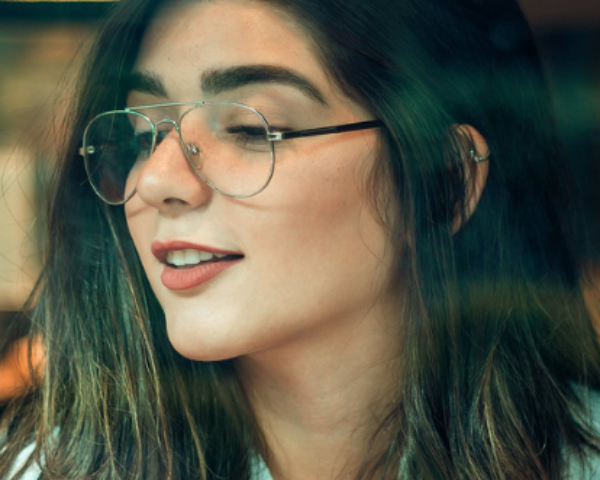 Wondering if you need glasses for small faces? Have you ever been shopping for glasses and found that no matter how many pairs you try on, you still look like you have massive bug eyes?
Glasses that drown your features, overpower your face, and slide off your nose? If you can relate, you most likely have a small face shape and would benefit from buying glasses for small faces.
There are plenty of brands that now manufacture petite glasses specifically for narrow face shapes. This means that you can find the perfect pair, pull off the most stylish of looks and be trendy with your eyewear, no matter your face shape and size.
How should glasses for small faces fit?
Comfort is the number one factor here. The aim of glasses for small faces is to provide a better, more secure fit without compromising comfort. So when you try on a pair of glasses for small faces, ensure they are the right size and feel secure without squeezing your head.
Glasses for small faces are designed to have a shorter lens width, shorter temple arms, and a narrower bridge frame. You can learn more about glasses frames here.
Many people with a narrower face shape resort to wearing children's sunglasses. However, this often involves temples that are too short. Glasses for small faces are, therefore, the perfect solution, offering frame arms that are slightly longer than those on kids' eyewear.
People with small faces sometimes resort to wearing children's glasses for a better appeaance on their face, but the temples are usually too short.
How to find out if you need glasses for small faces?
There are several ways to find out if you need a smaller size of glasses.
Option 1: Find out what size your current glasses are. Look at the inside of the glasses frames, and note the numbers that appear. Read on to find out what the measurements mean.
Add a few millimeters to the measurements if you feel they are too tight, or reduce the number if they are too large when you wear them. For more information on finding glasses measurements, read our article here.
Option 2: Take a ruler or flexible measuring tape. To find your face width, stretch the measuring tool from temple to temple. Next, repeat the action across your jawline. This starts roughly an inch below your ear. Pick the larger of the two measurements: this is your face width.
Now you need to find your face length. Go from your chin to the middle of your hairline. And here comes the maths: divide your face height by your face width. If you have a narrow face, your face height will be over 1.5 times the width.
Option 3: The process is considerably more straightforward if you already know your eye and bridge size. Simply follow this equation:
Eye size + bridge size = frame size
Eg. 47mm + 21mm = 68mm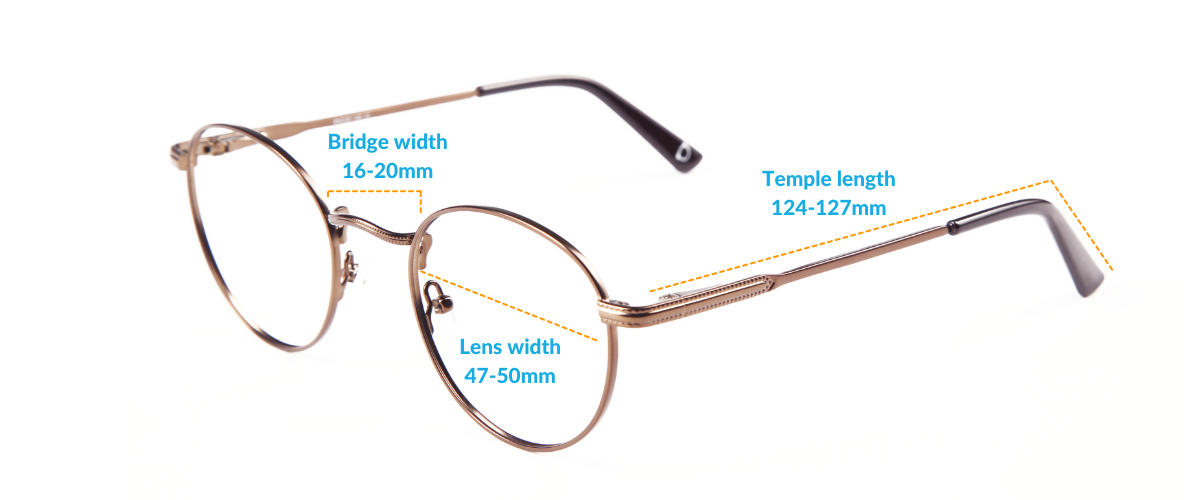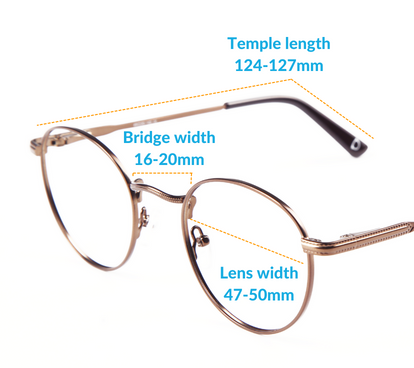 Total frame width: 123-127mm (114-122mm for properly petite faces)
Lens width: 47-50mm (45-46mm for tiny faces)
Bridge width: 16-20mm (15-16mm for the narrowest of faces)
The lens width quoted here will offer a narrow fit in most frame shapes. However, round frames are an exception. Round frames tend to have slightly wider bridges and more petite lenses. On average, 43-48mm represents a typical lens width in round glasses for small faces.
Due to the smaller lens size, the bridge size will be 2 or 3mm wider than that of other frame shapes.
Tips for checking that your glasses for small faces fit you well
Simply put, small glasses that fit properly will have frames that closely match the width of your face. In addition, the bridge will sit comfortably on your nose. A plastic fix bridge should sit flush at each side of the nose; there should be no gap at the top of the bridge on the frame and the bridge of the nose.
Metal frames with nose pads can be adjusted by moving the pads out or in to loosen or tighten the fit at the bridge. In addition, your eyes will be perfectly centered in the middle of the lens.
Those are the basics. Next, you want to double-check that the glasses fit securely on your face. If you can fit a finger down between the side of the frame and your temple, then it's too big and won't be able to be adjusted. The issue will only worsen and get especially bad in warm weather.
If the frames pass this test, they can move on to the next round! In this next step, you want to be 100% sure that the glasses fit comfortably on your head and don't feel too tight. If when putting the glasses on, the sides stretch out, it will be too tight and will leave red marks down the side of the face.
This would stop you from wearing the spectacles for long periods. When trying on the frames, one way to check this is to see if there are any red marks or a hint of indentation behind your ears when you remove them. If you do find such a mark, choose a different pair.
Yet another checkpoint before buying petite glasses is how flush they are to your face. Consider whether your eyelashes are touching the lenses. This can be adjusted in most metal frames but not so easily in plastic frames. 9 out of 10 frames will have a slight tilt in them to accommodate this.
You need to ensure that your eyes can move freely without your lashes coming into contact with the glasses. At this point, it is important to remember that your prescription lenses will be thicker than the test pair.
One final pointer to consider before settling on a pair of eyeglasses for small faces is where they sit on your face. Make sure the frames rest on the bridge of your nose rather than your cheekbones. The glasses don't fit you correctly if the frames move as you switch between facial expressions.
Tips for choosing glasses for small faces
Once you've found a few pairs that meet the measurement criteria and pass all the good-fit and style tests, you can consider the frame design that will be most flattering for your narrow face.
People with smaller faces often find that more delicate frames, such as metal frames or thin acetate ones, are more flattering. Such petite frames complement their petite features and narrow face shapes.
Another thing with glasses for narrow faces is that narrow frames draw more attention to your eyes. Therefore, it is recommended to find an acetate frame, the color of which matches your eyes. It will make your eyes stand out and make the glasses look perfectly natural on your face.
Best glasses shape for small faces
Here are some quick tips for finding the frames that complement your face shape. Find your face shape with the helpful guide here.
Prescription glasses for narrow faces
What glasses look good on a small face?