Why Buy From Us?
Our products are original, affordable and guaranteed.
We are eyewear lovers with expertise built over ten years of experience.
We offer the largest range in the world, with exclusive brands and styles.
Our 100-days returns policy means you can make your decisions pressure free.
We are a socially-minded organisation that cares about alleviating the problem of impaired vision. Find out more about our social programs here.
All products come with a 2 year warranty as standard.
Open up a whole new world of eyewear options and shop with SmartBuyGlasses, the smart choice.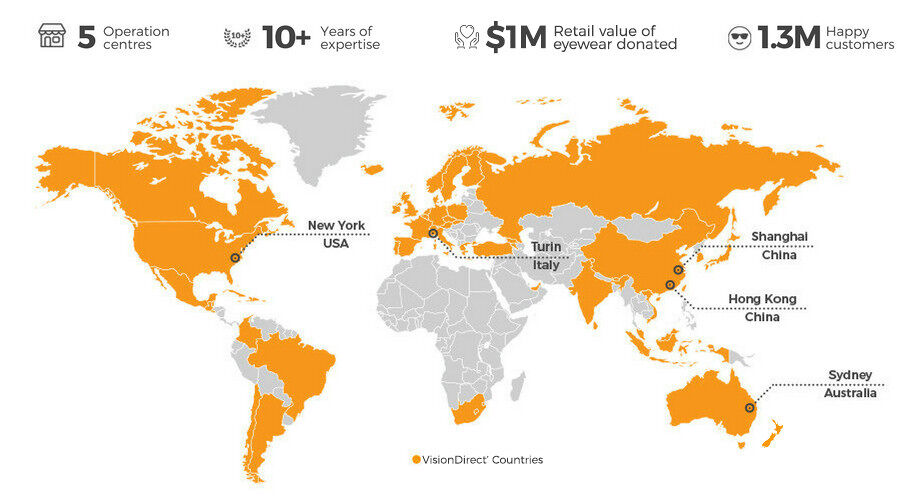 The Answer is Absolutely!
Does Vision Direct offer an exclusive 24-month warranty against defective products? ABSOLUTELY
Does Vision Direct offer a price match guarantee? ABSOLUTELY
Does Vision Direct offer the largest selection of designer eyewear in the world? ABSOLUTELY
Does Vision Direct provide unbeatable customer support? ABSOLUTELY
Is Vision Direct a reputable retailer with over 10 years of market experience? ABSOLUTELY
Does Vision Direct sell authentic designer eyewear? ABSOULTELY
You can find out more about our returns and warranty policy here.
Naturally, our dedicated customer service team are here to help you every step of the way, so if you have any questions or concerns regarding any of our products please feel free to contact us at customerservice@visiondirect.co.au

Our Lenses
As well as unlimited choice on frames, we are proud to be at the cutting edge of premium prescription lens development. Our partner optical laboratory creates new prescription lenses to order, so regardless of your eye health needs, you can be sure that we have the solution to restore your perfect vision.
Our People
At SmartBuyGlasses, our mission is to provide a unique shopping experience with unlimited choice and exceptional customer service. We've had the pleasure of providing our 1.5 million shoppers with some of the most exclusive eyewear brands. As such, we want to continue to serve our customers with the best prices, the biggest selection and smart service.