Thinnest Lenses for High Prescription Glasses- What Are My Options?
Lenses with a 1.74 index are the thinnest lenses for high-prescription wearers and include many benefits.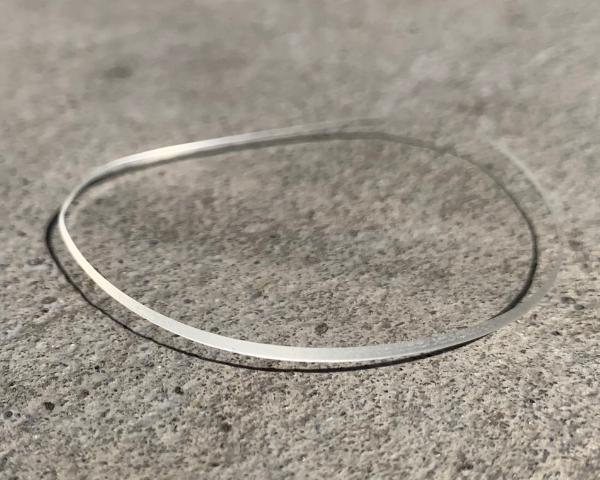 Finding glasses with thin and aesthetically pleasing lenses can be challenging for those with high prescriptions. Thick lenses can create the "coke bottle effect" protruding from the face and limiting your frame options. Not only do they look unappealing, but they also add extra weight, discomfort and risk of damage to the glasses. Luckily, advancements in manufacturing techniques have made it possible to create extra-thin lenses for glasses wearers with high prescriptions.
What are the thinnest lenses for high-prescription glasses?
The thinnest lenses for high-prescription glasses are lenses that have a 1.74 index. These lenses are made from high-index plastic, which allows for a thinner and lighter lens compared to traditional lenses made from regular plastic.
The thin profile of 1.74 index lenses is thanks to the flatter curve that is utilised compared to standard, lower index lenses. Using a flatter curve, however, can lead to peripheral distortion. This is counteracted by integrating aspheric lens technology, which eliminates spherical aberration. 
Thanks to the development of high-index lenses, manufacturers can provide far slimmer eyewear lenses than in the past. If you are accustomed to a strong prescription in standard plastic, then making the change could significantly affect the thickness of your lenses. While even the thinnest lens cannot entirely hide the thickness of a high prescription lens 100%, it will drastically reduce how much it is seen. 
Thinnest eyeglass lenses at Vision Direct
At
Vision Direct
, there's a variety of lens indexes you can select from that cater to different prescription needs. From standard 1.50 index lenses to high-index lenses such as 1.67 and 1.74, a range of options ensures you can find the right lens you need. You can also select
Arise Collective™ Clarity lenses
that provide breakthrough lens technologies, optimised visual acuity and state-of-the-art protection for any prescription and frame.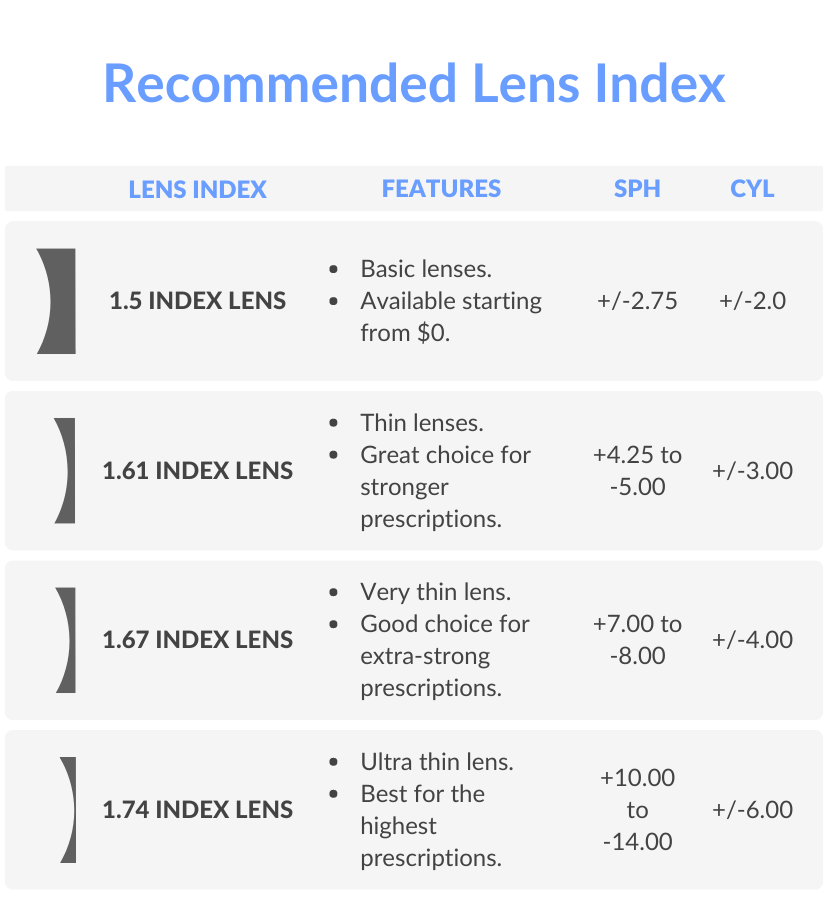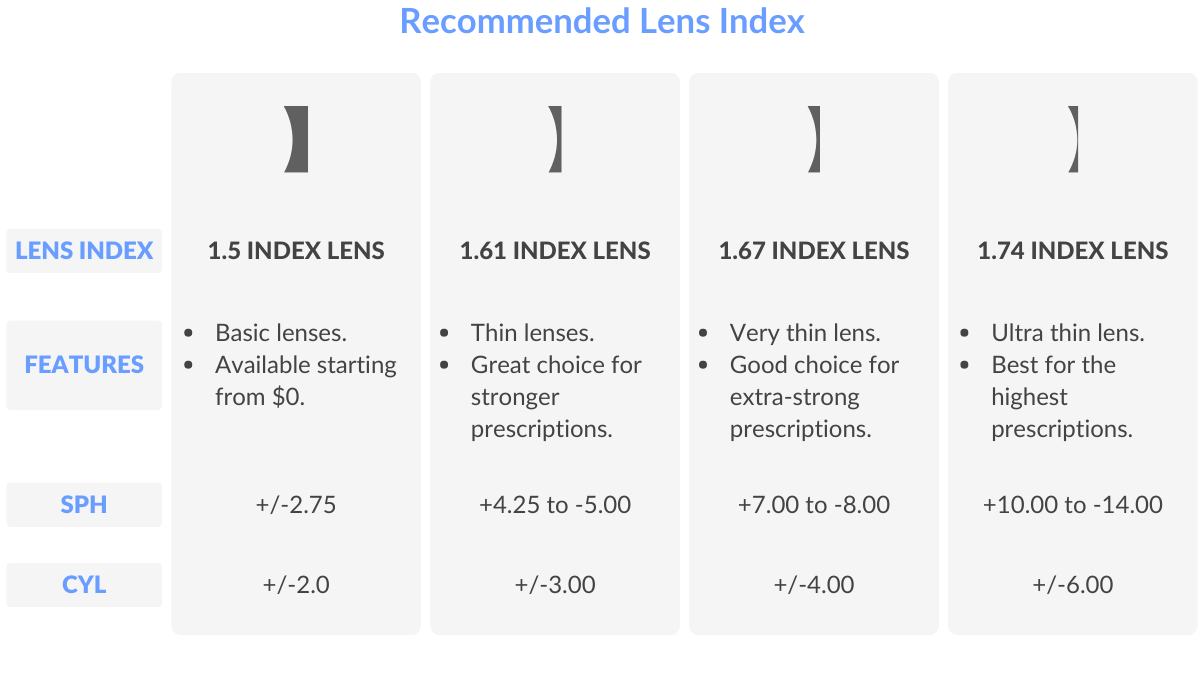 The higher the index lens, the more beneficial it will be if you have a strong prescription. Thanks to the reduced thickness and weight, you'll still achieve comfortable wear and an aesthetically pleasing look. However, when selecting your lens index, you want to make sure you're consulting your eye doctor before making the decision yourself. 
If you decide to go with the thinnest glasses lenses, you can choose from a range of different frame styles. With a 1.74 lens index, you can explore styles with delicate metal frames.  
At Vision Direct, lenses with a 1.74 lens index are ultra-thin and come with four lens coatings. With flatter Aspheric technology to improve your vision and enhance the aesthetics of your eyewear, they are the complete optical lens solution.
Are 1.74 lenses worth it?
1.74 index lenses are worth it for individuals with strong prescriptions who want thin, lightweight glasses. However, they do come at a higher cost than lenses that use older technology and present lesser qualities. Of course, the higher price point comes from the thinness and the incorporated benefits.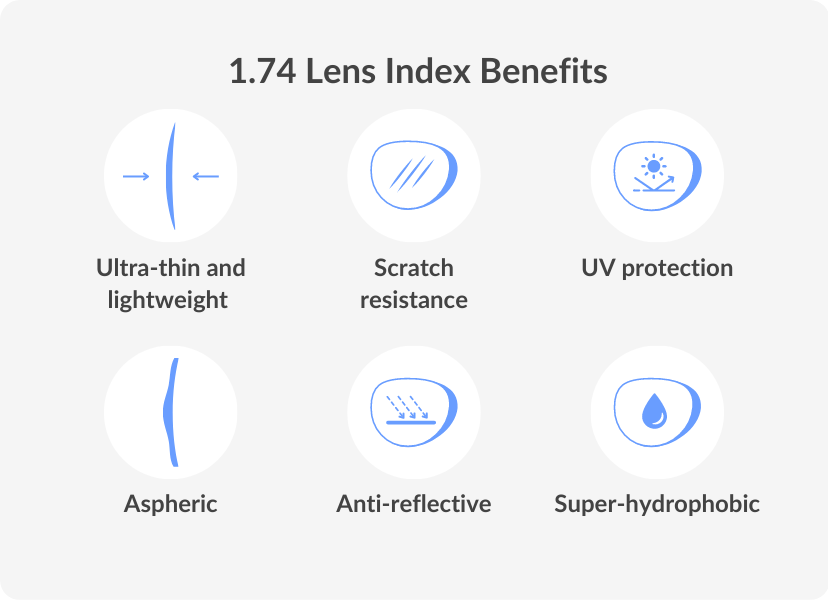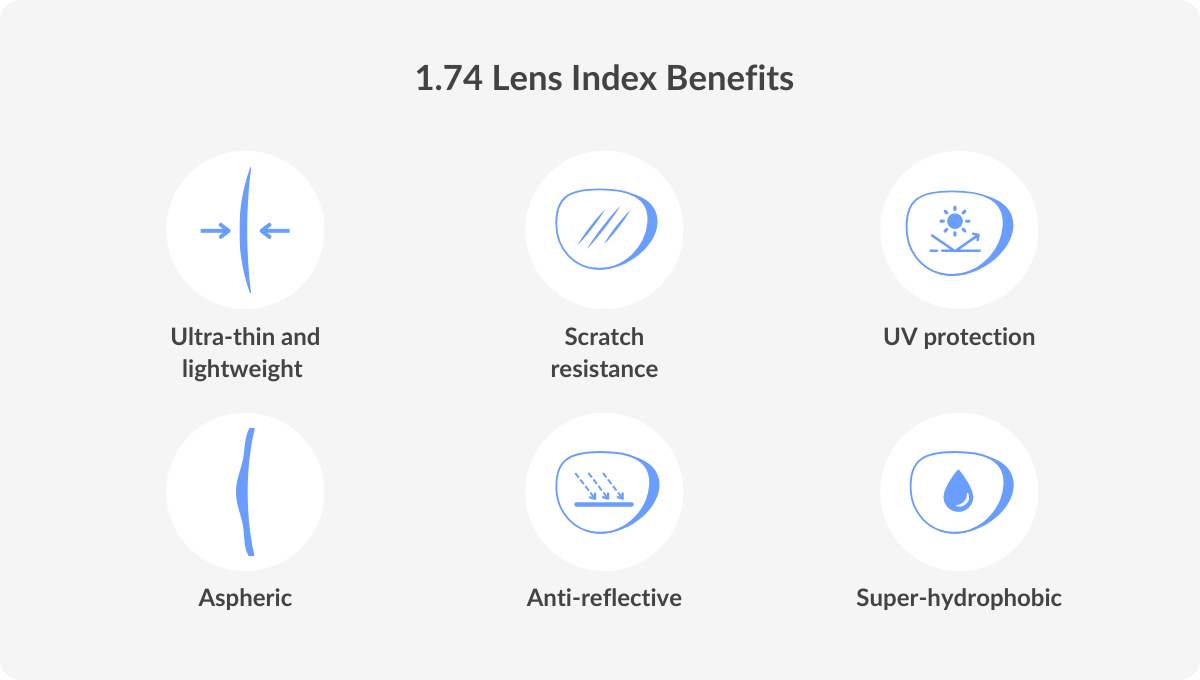 Are the thinnest eyeglass lenses for me?
If you face the challenge of having a high prescription and finding glasses with thin lenses, then 1.74 index lenses might be for you. The benefits of thin lens glasses include being ultra-thin and lightweight, scratch-resistant, UV protected and super-hydrophobic. It's important to note that you should always consult an eye doctor or one of our
online opticians
before deciding on your next pair of prescription glasses.  
Related articles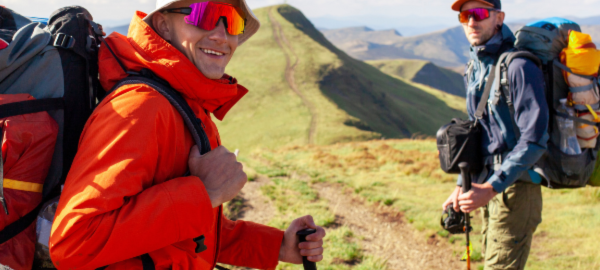 Best Glasses for an Active Lifestyle
Eyewear shouldn't hold you back. Look for durable, lightweight frames with high impact lenses and coatings.
View more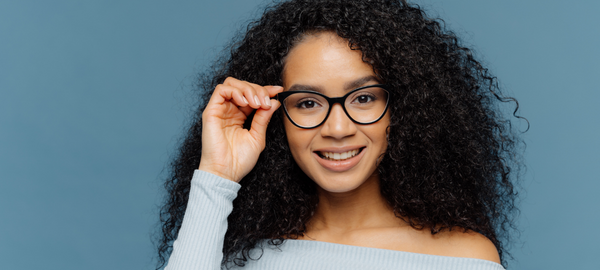 What are Progressive Lenses?
Progressive lenses correct multiple vision problems by combining different prescriptions in one lens.
View more