Everything You Need to Know About Gradient Sunglasses
Gradient sunglasses work well in both outdoor and indoor settings , reducing eye strain while letting in enough light for great vision clarity.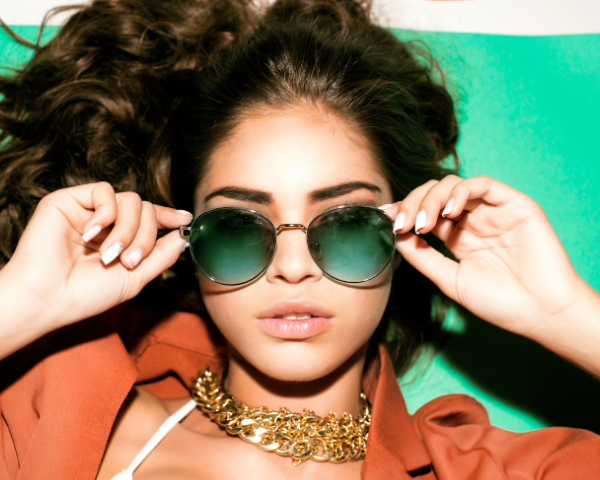 What are gradient sunglasses?
Gradient sunglasses come in dozens of frame styles and colours, but they all have one thing in common. As opposed to standard tint shades, these glasses have a gradient lens tint. This means their lenses are darker at the top, gradually fading to a lighter shade towards the bottom. 
Because they feature a variation in lens tint, gradient lenses handle transitions between light and dark better, offering the best of both worlds: complete clarity of view and protection from the sun's rays from above. For an enhanced view, you can also add prescription lenses to gradient tint sunglasses.
How do gradient sunglasses work?
In a practical sense, gradient glasses work by providing both effective protection from sunlight and a clear field of vision thanks to the varying intensity of the tint. The lens is dark at the top to protect the eyes, but clear at the bottom to allow for clear reading.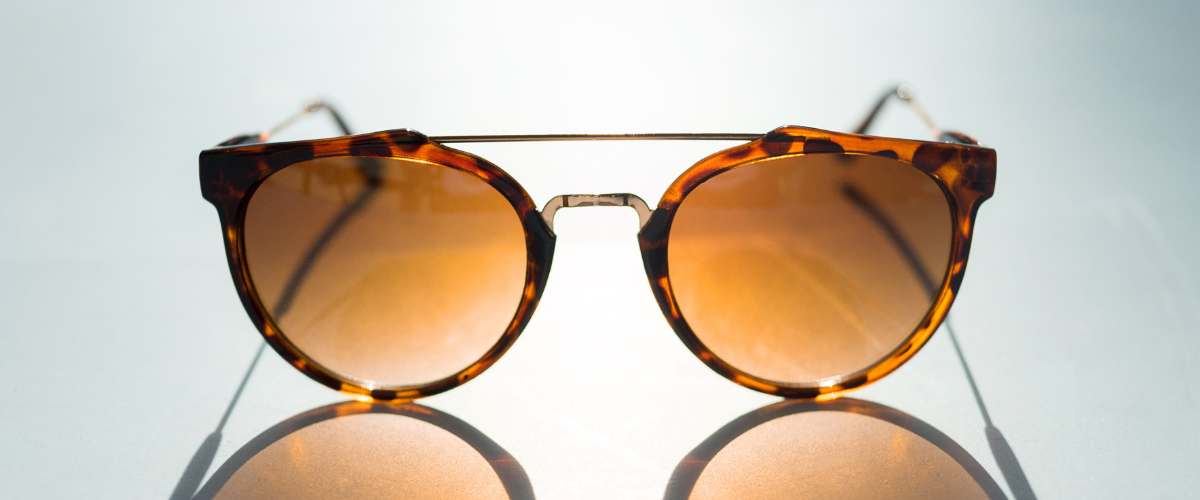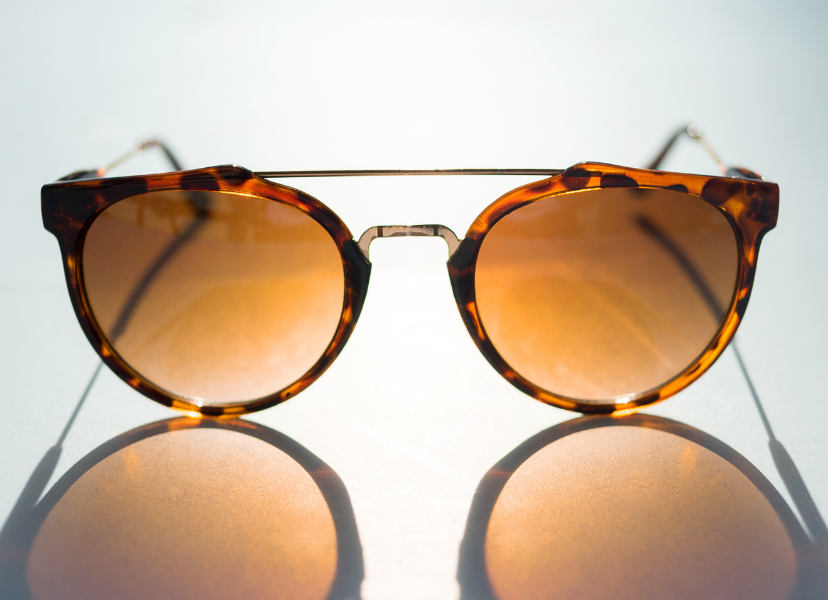 The gradient lens tint is achieved by adding a metal oxide to the lens during the production process, creating a difference in tones. Another method is dipping the lenses in dyes, with the same result. This transition from a lighter to a darker tone is what differentiates them from regular sunglasses, which have a standard lens tint. 
Are there different types of gradient sunglasses?
You've probably seen plenty of brown gradient lenses out and about, but you can choose from a wide range of colour options for your gradient lens tint. Colours aside, there are two styles of gradient available. Most people go for the more popular single gradient with its 'top-down fade". 
If you want something a little different, there are also double gradient lenses, which are tinted from both the top down and the bottom up so that the midsection is the lightest. Double gradient sunglasses can also incorporate two different colours into the lenses.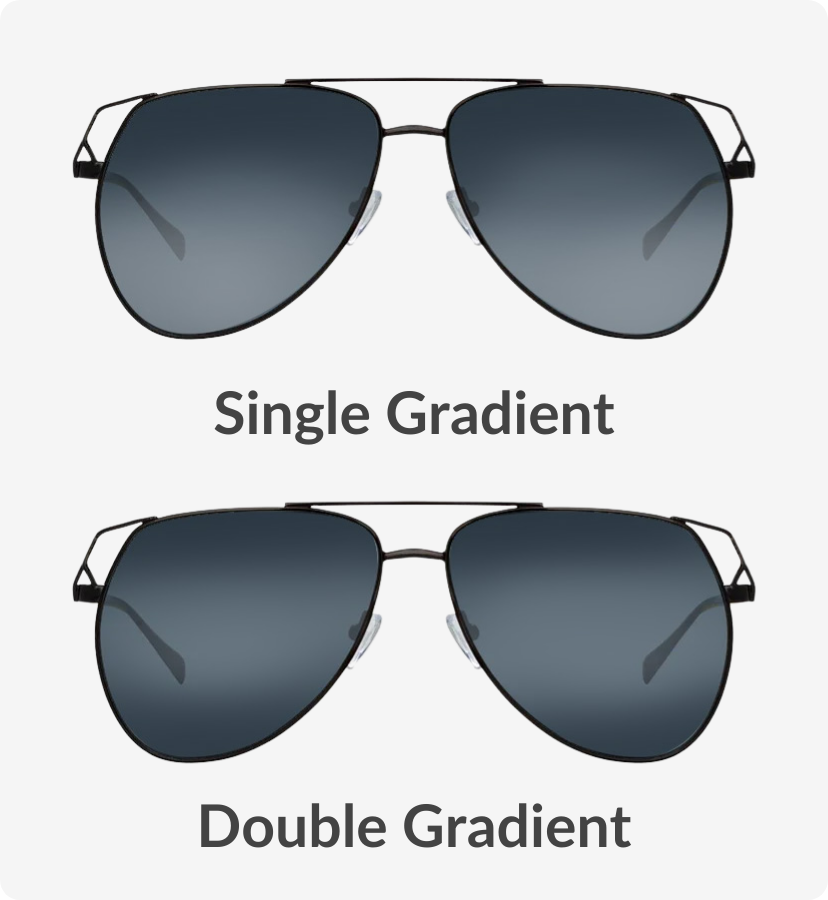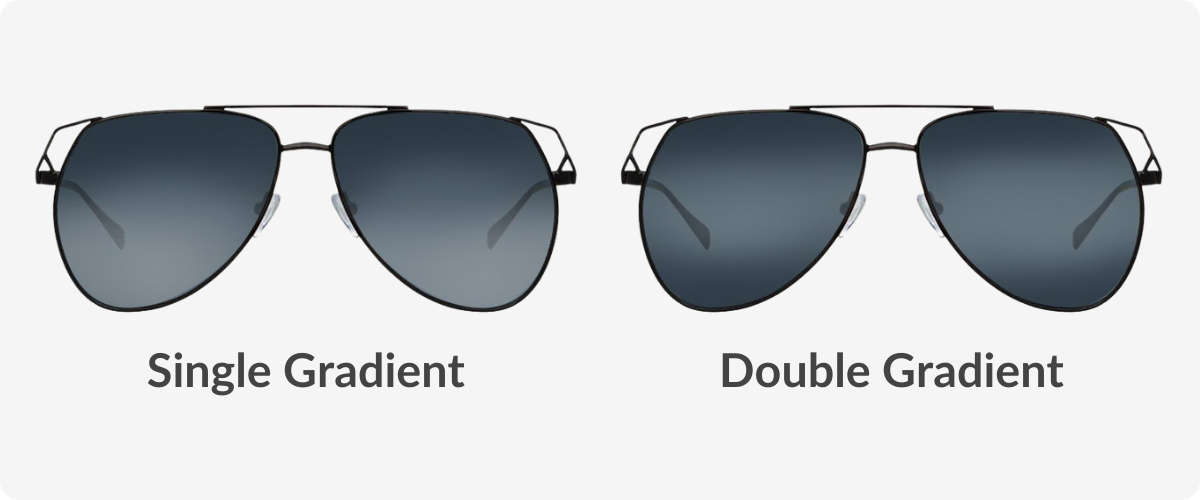 When can I use gradient sunglasses?
Some double-gradient sunglasses have two top-down fades, resulting in two clear sections and two dark sections on each lens.
Are gradient lenses better than polarised lenses?
Polarised and gradient sunglasses share some common features. Both types reduce glare (to different extents) and eye strain, protect your eyes from sunlight, and provide general comfort when outside in the sun.
However, there are also some differences between them, so one type may be more adapted to your specific needs. For example, polarised lenses have a filter to reduce reflected glare that is not present in gradient sunglasses, making polarised lenses superior in this regard.
The light and dark combo of gradient glasses is particularly advantageous when you're going between indoors and outdoors. However, not all gradient sunglasses provide UV protection, so they may not be the best option for spending extended periods under strong sunlight. 
Because gradient tint sunglasses provide shade from overhead light while giving you a clear field of vision, they are well-suited for driving, reading outdoors, gardening, and other similar activities. Looking at LCD screens is also more comfortable with a pair of gradient sunglasses.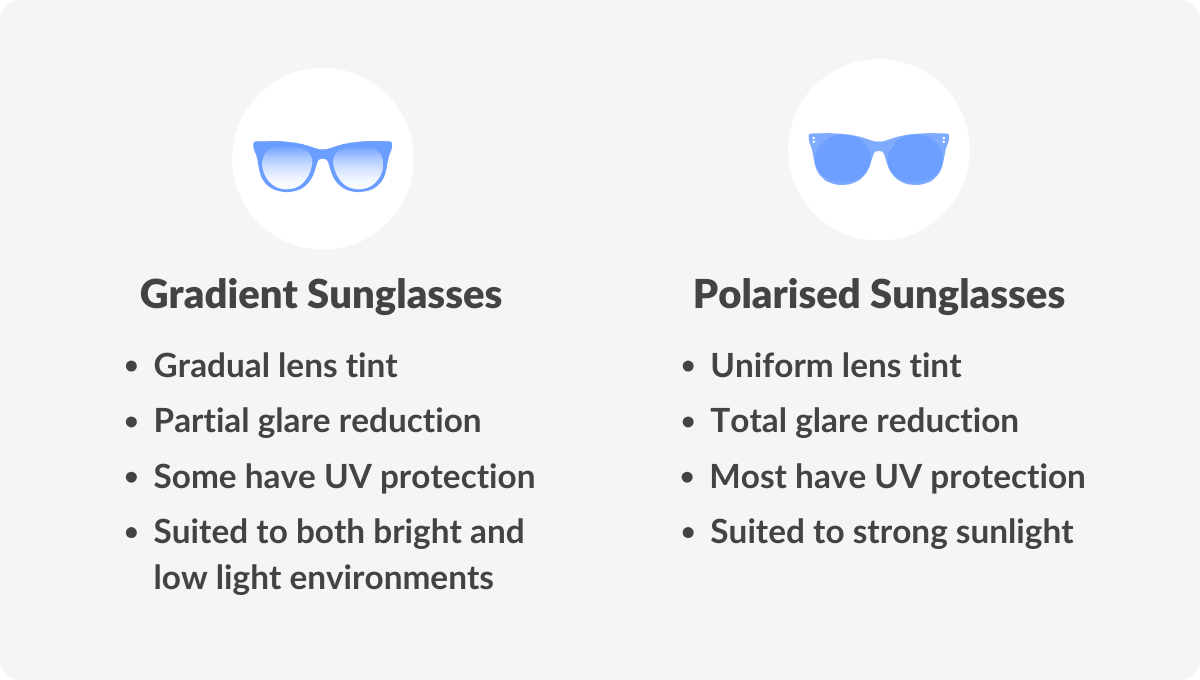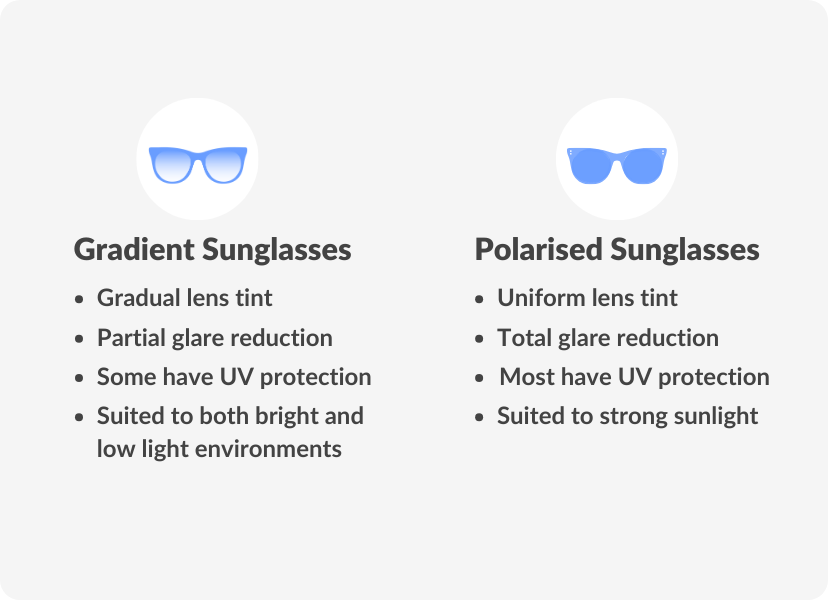 The lens material of polarised sunglasses is treated with a chemical to filter light coming in. This light filtration then blocks horizontal light waves created by the sun's reflection off surfaces, which we experience as glare. Therefore, polarised sunglasses limit glare intensity to a greater extent than gradient glasses.
As such, polarised sunglasses are perfect for watersports, skiing, golf, and other outdoor activities. Most polarised sunglasses also block UV rays, which is vital if you plan on being out in the sun for long periods.
Exposure to UV rays elevates the risk of developing conditions such as cataracts later in life. UV protection should always be a top priority when choosing a pair of sunglasses.
What are the benefits of gradient sunglasses?
Gradient sunglasses bring form, function, and style together in a very versatile package. When passing from bright to darker settings, you'll have clear, comfortable vision in both cases, without the need to take them off. 
If you're looking for sunglasses purely for style purposes, gradient sunglasses offer a compromise; a subtle fashion statement without having to obscure your eyes with dark lenses. Classic silhouettes like the Ray-Ban Aviator and Wayfarer come in a range of gradient options, while Balenciaga and Prada have some more modern, trend-based frames.
You don't have to sacrifice proper eye contact while wearing them either, thanks to their light shade. Prescription gradient lenses are available if you need more than just aesthetic appeal from your eyewear.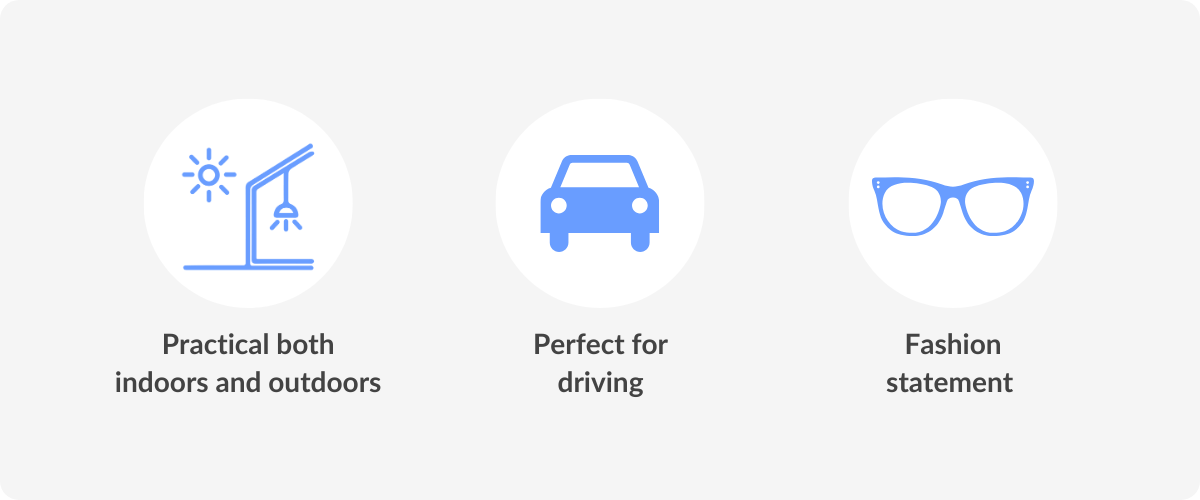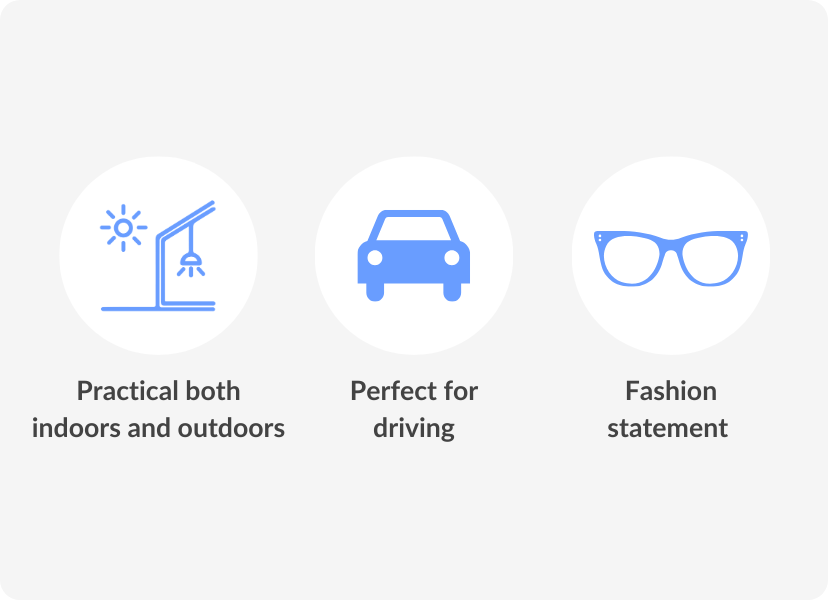 If you think that two-tone sunglasses are a good fit for your lifestyle, we advise you to go for a pair with UV protection. The harmful effects of UV rays aren't limited to your skin. When it comes to eye health, UV protection is extremely important.
Before investing in a pair of shades, take into consideration what you'll be using them for. Depending on your habits, gradient sunglasses could be more suitable than regular sunglasses.
If you have any questions about gradient sunglasses, you can ask one of our certified online opticians. Be sure to check out our other Optical Centre articles to stay well-informed on all things ocular. 
Some double-gradient sunglasses have two top-down fades, resulting in two clear sections and two dark sections on each lens.