A stye can be unsightly and may cause some discomfort, but thankfully they are quite easy to treat.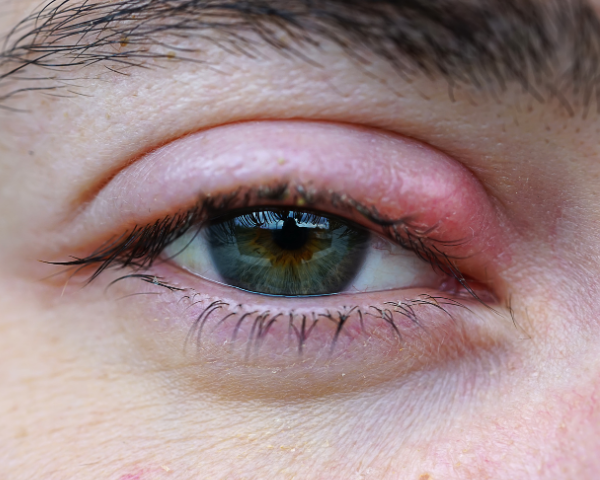 A stye is a red bump near the eye that can resemble a pimple inside eyelid, or more commonly, outside the eyelid. Styes are also known as a hordeolum. Styes are typically puss filled and can cause discomfort or swelling near the eye.
While not usually an indicator of a serious medical condition, you should see your eye care professional if the stye does not go away on its own. 
Styes are caused by an infection of the oil gland around the eye. Styes are a lot like chalazions which look the same, but usually indicate a non-infected swelling of the oil gland.
Stye symptoms can include a red pump near the eyelid, or eyelid pain. This pain can increase when you touch the infected area. You may also experience swelling or tearing of the eye. You could get a stye on upper eyelid or a stye on lower eyelid. Finally, you could have a stye on the outside of your eyelid (external hordeolum) or on the inside. 
Styes typically go away on their own in a couple days. However, your eye care professional might prescribe stye medication such as eye drops or an antibiotic cream to help get rid of a stye fast. If the infection has spread beyond the eyelid, they might prescribe a stye medication antibiotic in tablet or pill form. 
Most of the time, styes go away on their own without any intervention.